Naila Shaheen is a student at Shining Light's Women's Vocational Training Center. Though she never had the chance to attend school or obtain skills training, she has started to learn new skills and plans to use them to their fullest potential.
"Today I have gained so much confidence."   – Naila Shaheen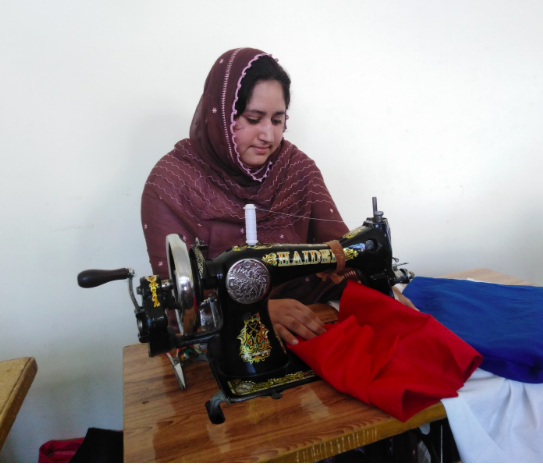 "I am 35 years old and I have never gotten a chance to attain any school or to get involved with a skills program. I never thought of exploring my skills because we have never been encouraged to explore our skills and talents. My family is conservative and we are not allowed to meet people and attend such centers.
Here in Gilgit where I live, my neighborhood is so good and I met a lady who told me about this sewing center. I was very curious to know about it and asked my husband to visit it. Fortunately, he gave me permission to visit here and when I came to the center I felt like this place was made for me and I would be lucky to get admission. The staff was very friendly and a lady came to me and hugged me. I was so impressed…she carefully gave attention to our conversation. I showed my interest and at last she said this center is for ladies like you who really wanted to do something for their families and for their lives. The next day I came and they accepted my admission!
Today I feel like this is my home here. I feel like I met my best friends. Now my goal is to learn from here and next year, when we go back to [our village] I really want to open a center and teach thousands of women who are in their  homes and doing nothing. When I am back, I will go door to door and ask families to help their women to learn a skill to help their children. I know they are extremists and do not listen to others, but I will try my best to help them to understand about the importance of Vocational Training. Today I have gained so much confidence and I have motivated my husband to help me when we are back in our hometown. I am not very influential in my area but God will help me to do something good for my people and God will not leave me alone. Today I am very thankful for this center and for the people here who really love me and take care of me all the time. I don't feel that I am a stranger here. Thank you all for your kind love and helping me to make my life."
To help provide training for more women like Naila Shaheen, click here.