Did you know that over 40% of the world receives an education in a language that they don't understand?

In Pakistan, the numbers are even more startling; government schools in Pakistan teach the basic curriculum in Urdu, which is spoken by less than 8% of the population. (UNESCO)

Imagine your first steps in learning to read and write weren't in the language you were taught from birth.  The sounds are foreign, the characters are unrecognizable, and the rhythm of speech completely unfamiliar. Learning like this would be even more challenging and strenuous than those formative years already are. Your difficulties in learning certainly might hinder you from wanting to return to school at all because weather, finances, or culture already pose nearly insurmountable challenges to you going to school at all.

The Gujjar villages that Shining Light works with were originally offered a basic Pakistani government education in Urdu.  This is a great start, however, the Gujjars don't speak Urdu!  They speak their own tribal language called Gujjari, and learning to read and write in a completely different language was proving to be a great challenge.  While learning the national language of Pakistan is certainly advantageous and crucial for their future opportunities, those initial years of learning the basics of literacy skills should be received in their mother-tongue, that was spoken in their homes since birth. Studies have shown that not learning in a mother-tongue leaves a child disadvantaged and behind throughout their entire education, but if they begin their education in their own language, there is increased self confidence and cognitive skills, higher test scores, lower drop out rates, and increased family involvement.
These benefits of mother-tongue literacy were too significant to ignore.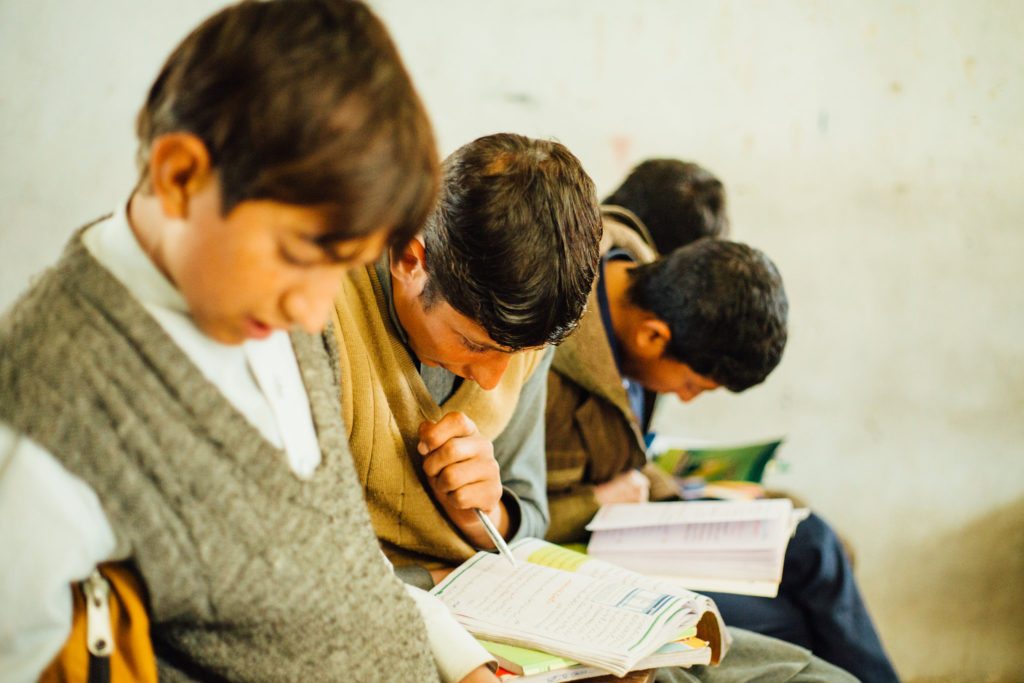 That's why Shining Light found partners who were working on documenting the Gujjari language in a written form that could be used to promote and teach literacy in the very villages we work in.   Our friends spent years documenting Gujjari and using this new script to create basic educational primers that could teach young children how to read and write in their own language. After years of studying, documenting, developing, illustrating, and publishing, the first Gujjar Primers have officially been printed and delivered into the hands of our Gujjar teachers in all four villages we work in.   Over six months ago, 10 teachers from our rural village schools, as well as government teachers were trained in how to use these primers in their classrooms and how to begin teaching in their mother-tongue.
Now, 500 kids have received their new books…in their native tribal language.
Over 500 children in Shining Light's rural village school have their own books with which they are learning to read and write in the language the've heard in their homes since birth.  A language that was previously unwritten, they are now putting onto paper, and the connections for literacy are being made in not only their mother tongue, but the foundation is being laid for stronger cognitive skills and the ability to learn the basics of math, science, and eventually Urdu or English. What is even more exciting about this project, is that our student's parents and families (who are statistically 95%-98% illiterate and never had the opportunity to receive an education) now have access to these literacy basics as well. Adult literacy classes are scheduled to begin in the coming months through evening community classes.  Therefore, entire families, and ultimately, entire communities will now have elevated confidence, skills to enhance their interactions in society, and a significant amount of options for pursuing business and economic opportunies.
We are celebrating with our students as they see their language and culture being valued and preserved, but also honored, as we seek to give them the most solid education and foundational skills that will be the building blocks for the rest of their education.  While the Gujjars were once forgotten, and oppressed, with no services available to them, we see them as valuable members of society, and want to get them every opportunity to pursue a bright and hopeful future for themselves.
In 2017 we aim to deploy the use of the Gujjar Primer books in a new valley for over 200 more children. If you'd like to give to the further development of Gujjar Primer Mother-Tongue Literacy materials, you can give here: DONATE
Written: November 29, 2016 by Kezia McNab